Whilst you're wandering along the streets of Chinatown picking up some last minute bargains on CNY goodies or simply soaking in the festive atmosphere, make time to pop by Temple Street (one of the many aisles of road closed to vehicles during this festive period)
and keep a lookout for the following shop: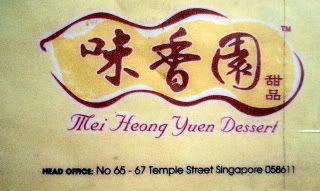 What's to be found here? Chinese desserts galore
Here's a preview of their menu…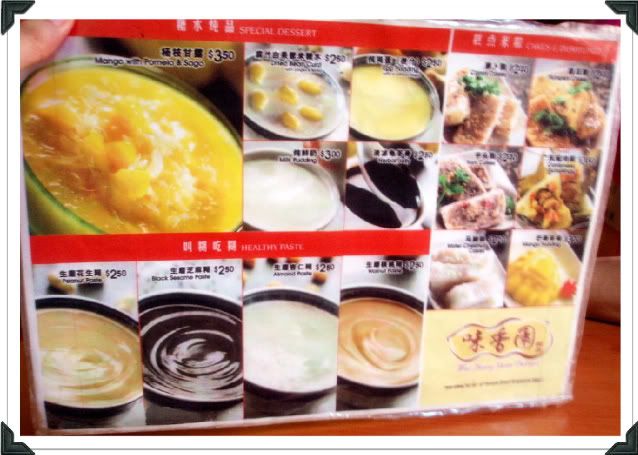 Everything from Peanut/Almond/Walnut/Black Sesame/Yam paste, egg pudding, even carrot/pumpkin/yam cake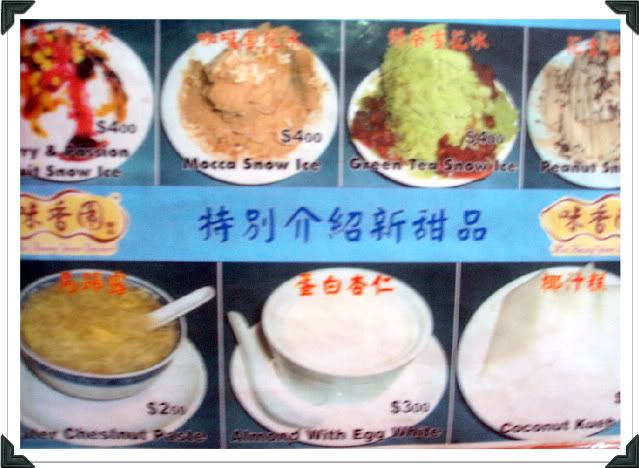 …to flavoured snow ice and coconut kueh! What better way to cool oneself down than to indulge in an icy dessert after an afternoon spent browsing makeshift street stalls under the sweltering sun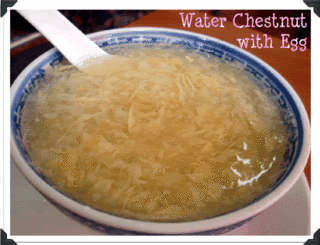 These 2 desserts aren't particularly new or unique, but what makes them stand out from similar versions elsewhere is the stall's generosity with ingredients. Chunks of fresh mango in a thick mango pulp and an unstinting amount of diced water chestnuts ensure fans of the desserts keep coming back for more
Not in the mood for something sweet? Help yourselves to their home-made carrot/yam/pumpkin cakes and cantonese rice dumpling.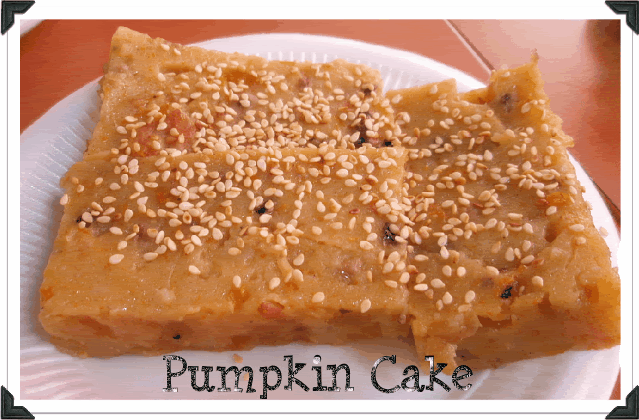 Delightfully soft, fragrant and flavourful, you won't be stopping at just one piece
Remember to have it with their home-made chilli which packs a punch with its distinct taste of dried shrimp. Wonderfully YUM!
Interesting tid-bit: Remember Farmer Brand peanuts? They are made and marketed by the same company that owns this dessert stall.
味香园甜品
65 – 67 Temple Street
---
If you love your chocolates as much as (or maybe even more than) your alcohol and the brand Royce doesn't ring a bell, you have lived much of your life in vain. The only logical course of action now is, of course, to allow papilles to enlighten you on what you've been missing (before you run off to the store)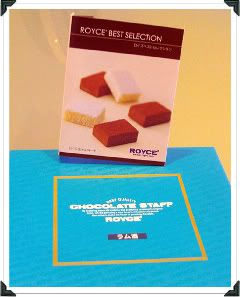 Aside from household Japanese confectionery brands like Meiji, Royce is another name that should pop up the next time you're craving for quality chocolates but don't wish to burn a hole in your pocket. Originating from Hokkaido, they carry a whole range of chocolate products from the usual bars and wafers to more quirky stuff like Potatochip Chocolate.
 Chocolate bars and the like are too boring for me, and I prefer my potato chips savoury so I tend to stick to their Nama Chocolate range. Albeit having a somewhat vulgar sounding name, these chocolates look and taste absolutely refined
There's the standard flavours of dark, milk and white but why bother with these when you can have champagne, V.S.O.P and every once in awhile, new flavours such as brandy, rum and green tea!
A new flavour is launched every couple of months and here's the current one (pictured right). These rum-infused cocoa-dusted nuggets melt in your mouth leaving you with a slight buzz from the generous alcohol content
And I did mention these won't burn a hole in your pocket – at $14 for a box containing 20 pieces, it's almost a steal for chocolates of a quality that would put some of the other designer brands to shame.
Royce outlets in Singapore can be found at Takashimaya Basement (where the food is) and Suntec City #01-142 (opposite Carrefour).
---
If you haven't already noticed, there's been a new addition to the sidebar of this blog, in the form of a banner ad featuring some yummy brownies
If you're a fan of brownies, cheesecakes and the like but find it too much of a hassle to bake your own (or have never set foot into a kitchen), you may wanna consider placing orders at the e-mail listed there. Everything is lovingly made and baked from scratch by a "Baker Boy" who goes by the name of Daniel.
I've tried his brownies and New York Cheesecake (shown below) and they're good stuff! Their brownies manage to be crisp on the surface yet light to the bite, and aren't tooth-achingly sweet. You know you're dealing with dangerous stuff when a non-brownie lover like myself manages to unconsciously polish off 4 brownie cubes in a sitting 
I especially liked that their New York Cheesecake was a dwarf version of those usually sold outside; add to that a thick, cocoa biscuit crust and you get a cheesecake that won't have you gagging on an overload of cheese when you're at the last mouthful. A slice of this New York Cheesecake makes for a fine tea-time snack that is light enough not to ruin your appetite for dinner
"Baker Boy" has plans to expand his list of baked goodies which currently comprise of brownies, chocolate cake and New York Cheesecake. I'll post the full variety and price list here as soon as it's out, but if you can't wait to get your hands on some brownies/cheesecake (after reading my review and staring at the tantalizing pictures), feel free to drop the friendly baker an e-mail at one.detail@hotmail.com to know more.
---