The name of this restaurant's somewhat a misnomer as my initial impression was that they sold only Chinese double-boiled and herbal soups, much like an Oriental version of The Soup Spoon. I guess they meant to convey the impression that they specialise in traditional Chinese soups hence Soup Restaurant, but that's inaccurate cos' they do a pretty good job with their dishes as well
In fact, their signature dish isn't even some sort of soup but a delectable Samsui Ginger Chicken (which we ordered of course).
For those who aren't aware, the name of this dish had its humble origins from the cooking area (I wouldn't even call it a kitchen) of samsui women living in Chinatown back in the old days. The story goes that these women who lived on a subsistence level, as a result of their low wages, only got to enjoy their Samsui Ginger Chicken during the Chinese New Year. Although their trademark red cloth hats have since faded into oblivion, such traditional delicacies have been preserved by Soup Restaurant which prides itself on sticking to family recipes and traditional methods of cooking.
According to them, this means steam-cooking chicken for a pre-determined duration and temperature to maintain its aroma and taste. Here's the end product: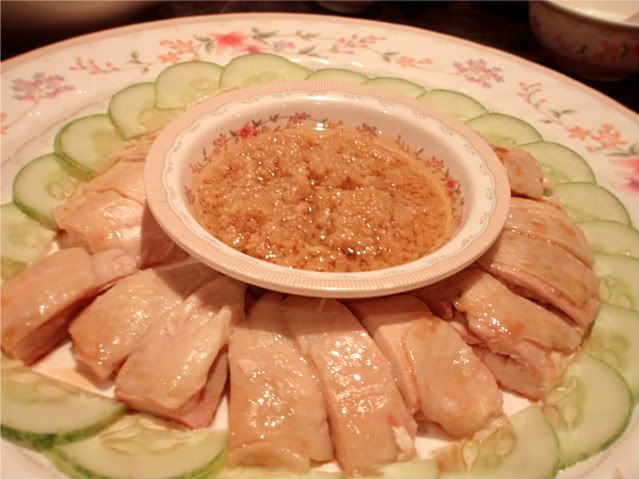 (Samsui Ginger Chicken – $14.80)
The style of presentation of this dish is unique to their restaurant. Steamed, deboned chicken breast slices dipped in a fragrant ginger sauce and eaten with  cucumber garnish or wrapped in lettuce. My least favourite part of the chicken has to be the breast as the flesh tends to turn out dry and tough, and the lack of bones makes it rather boring to chew on; not so when it comes to their Samsui Ginger Chicken which manages to be tender, smooth and flavourful with a light drizzle of soya sauce and a generous amount of pounded ginger. Yum.
The next dish wasn't as well presented visually and turned out looking like a mess on camera: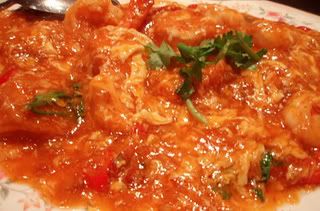 (Tofu Prawn – $16)
Bet you couldn't tell what this was if I hadn't stated it >.< We could play a "Spot the tofu/prawn" with this picture haha! If you (like me) thought the orange eggy gravy, which obscured all the main ingredients, resembles what you find in our famous local dish of Chilli Crab, give yourself a pat on the back for being spot-on! I must say that I'd much prefer the original gravy-crab pairing though; the sweet-spicy gravy held such a distinct taste on its own that it overpowered the milder tasting tofu and prawns.
Finally, a veg dish to complete the meal as always: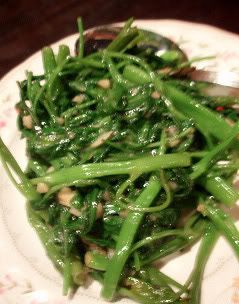 Kang Kong Fried with Fermented Beancurd ($7.80) is a simple dish and the one served here is fairly decent; the kang kong is crisp and there is just enough fermented beancurd stir-fried in to give off that familiar pungence without being too salty.
 If you are a fan of spicier stuff, I would suggest going for their Sambal Sweet Potato Leaves otherwise known as 阿婆番薯叶 in their menu. The last I remembered, their sambal had an aromatic fragrance of dried shrimps and wasn't too spicy or oily. Now that's what I call tradition at it's best
Soup Restaurant outlets listed here.
---