Even the most adventurous and fussy of palates wish for something a little less complicated and fanciful every now and then. A blend of simple textures and flavours – the mark of comfort food, should never be underestimated. A remedy for the home-sick and plain sick alike, these are the foods that nourish the soul and help restore the balance of one's gastrointestinal system. Ok, if what I've just said sounds too abstract to make sense out of, just know that comfort foods well, provide comfort
Which is why whenever I feel under-the-weather and in need of soupy healthy stuff, I pop by a particular stall for some ban mian (handmade noodles):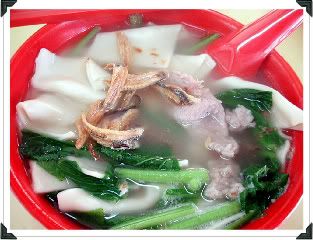 Make no mistake, despite having a generous serving of greens and some pork slices in what appears to be a clear broth, this isn't your typical "healthy-tasting" fare. What sets this stall apart from many others is its broth, richly flavoured with the taste of garlic, pork and anchovies. A standard bowl ($3) comes with a poached egg, but you can choose not to have it (like I usually do) if you don't like the idea of egg whites clouding up your broth.
NB: The coffee shop where this stall is located just completed an overhaul so expect the signboard to look slightly different. A taste-test post-renovations ascertained the quality remains unchanged, with the added bonus of a cleaner dining environment
美味板麵
Block 177, Toa Payoh Central
(Corner coffee shop diagonally across Toa Payoh Central Community Building)
---