That's what I'd heard about Basil Alcove that led me to the cafe tucked in one of those worn-looking buildings, a place I'd have hurried past without an inkling that good food lurked in the premises. Thank goodness for newspapers and the internet. But there's always two sides to everything and in this instance, it was a case of raised anticipation and expectation.
So I wasn't particularly impressed. The menu was a lot more limited in variety than I had been primed to expect. In effect, there were some pastas and a handful of your usual western mains (i.e. pork chop, chicken, fish and lamb rack). In all honesty, if it wasn't for the reviews I had read and heard, I'd probably have turned around and left. But there I was, and I did want to find out just how much truth there was in those reviews
On a side-note, a tip from papilles: If you're new to a dining estab, always go for their "signature items". Cos' then if that item doesn't measure up, it saves you the trouble of trying the rest
But I guess most of you know that. And that is what I did…
I must admit the presentation of this dish did elicit quite some "oohs" and "ahhs" from the table, and was deserving of the "fine-dining" label. But the important question was if it tasted as fine.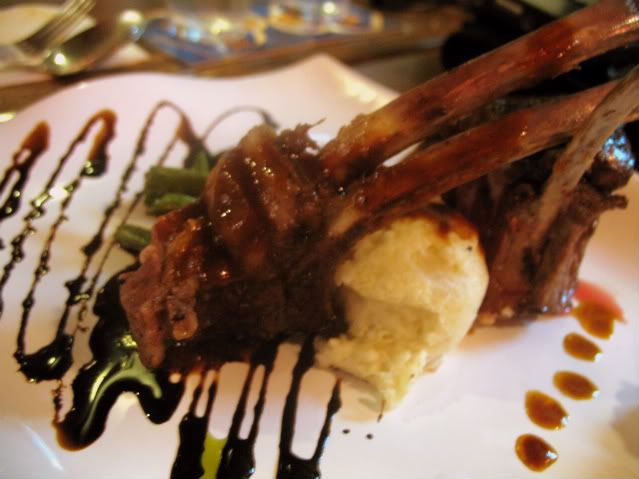 Verdict: The lamb was done perfectly medium-well as requested, an ever slight crisp with a tender, pink, juicy centre. Intensely flavoured with a smoky herb taste, their lamb was hardly gamey. And most importantly, I didn't have to expend too many calories just trying to get at the meat; I've had places where I literally had to saw at the meat and gave up eating it entirely cos' it defeated the purpose of eating since I was losing calories faster than putting them in
The pretty li'l sides of mango chutney, mashed potato and sauteed raddish added colour to the plate but did little to enhance the overall flavours of this dish. I also found the portions of this dish to be on the small side; then again, at $20.80 without GST and service charge, and considering the overall quality, Basil Alcove is a rarity. To sum it up, slightly above average food at slightly below average prices
Basil Alcove
#01-12 Fortune Centre
190 Middle Road
Tel: 6336 1318
---
I'm sure you've noticed the slew of Hong Kong char chan tengs mushrooming all over the island, the result of yet another food fad here. Everytime I browse through their menus of thick toasts, luncheon meat and egg sandwiches, bo lo buns and instant noodles, I get the sense that these are all dishes I could whip up at home. If I didn't hate the washing up after that much
But food that can be easily prepared at home also means they most probably fall into the category of comfort food – food that warms your heart with the memories of home. And that is what's offered at HK KimGary, the only char chan teng I know in Singapore which doesn't have like 20 other outlets at every other mall. In fact, it is the only outlet here.
I never thought I'd be impressed with instant mee, but I sure was with theirs. Using Korean brands of instant noodles that can be easily found in your local supermarket, their addition of ingredients such as corn kernels, ham and a sunny-side egg made this a wholesome, satisfying bowl of noodles. I especially liked how the corn gave the otherwise spicy soup base, a tinge of sweetness. The noodles had a surprisingly springy texture too. Like I said, something I could whip up at home if I really wanted to, but the idea of washing a greasy pan after frying some ham and egg just doesn't appeal to me
Plus I can get a good meal here for under $10, so why not?
Hong Kong KimGary
#02-128 Vivocity
---
If you're familiar with the food scene, you'll know which establishment this post is gonna be about simply from reading the title. This place was the talk of the town when it first opened, due to its pioneer concept of serving dessert till 2am. Thanks to 2am: dessertbar, people on this island no longer have to settle for greasy pub fare or prata to quell those midnight hunger pangs.
This is actually one of the places that I wanted to visit but didn't, after reading a couple of bad online reviews, which were mostly gripes about bad service. As service is an important part of a dining experience, I wouldn't have set foot into this cafe if not for the strong recommendations and great company I had that night.
As it turns out, service was actually quite pleasant; perhaps attributable to the fact that there were still 1 or 2 tables unoccupied when we arrived. That being a Saturday night, I was quite surprised to see that there wasn't much of a crowd or a queue of people waiting to get a table in this relatively small cafe. Maybe it's the flak they've been receiving online or simply that the hype is dying down.
A glance at the menu revealed a list of about 10 dessert items, a variety I consider a tad scarce for a place whose main draw is desserts. Nonetheless, quality still takes precedence and that was put to the test with my order of Chocolate ($14). No, I didn't get a bar of chocolate for 14 bucks. This is what 2am's Chocolate is all about: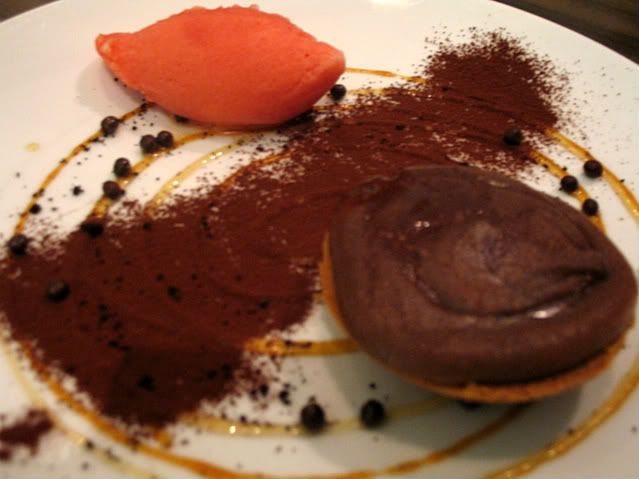 A dish of warm chocolate tart, wild nettle and salted caramel accompanied with a scoop of blood orange sorbet. First forkful into the tart resulted in a steady ooze of thick molten chocolate. I liked that they were very generous with the chocolate, unlike some molten chocolate lava cakes sold at other establishments where you can't find a drop of liquefied matter. Couldn't taste much caramel and not too sure how nettle is supposed to taste, but I didn't get that either. The blood orange sorbet was puckery sour which didn't really do it for my tastebuds. Perhaps something less tart like raspberry/blueberry coulis would have been a better pairing with chocolate.
Had a taste of my friend's order of Twix (burnt caramel mousse, peanut crumble and home-made valrhona chocolate ice-cream) and I immediately wished I had ordered that instead. I admit being partial to the word "Valrhona" but the soft, fluffy mousse covered in peanut bits was everything a good dessert should be – smooth, with a balance of sweet and savoury, and insatiable.
I would return just to try Green Tea (crème brûlée, frozen white chocolate dome, apricot), which was a contender for Chocolate that night, and to have Twix all to myself
It also helps that the dessertbar boasts a nice chill-out ambience thanks to its dim lighting and jazzy tunes in the background. Head down with good company and a stomach with just enough room for dessert!
You can also check out their menu here.
2am:dessertbar is at 21A Lorong Liput Holland Village (beside a multi-storey carpark)
Opens from 6pm-2am everyday except Sunday.
---