That's what I'd heard about Basil Alcove that led me to the cafe tucked in one of those worn-looking buildings, a place I'd have hurried past without an inkling that good food lurked in the premises. Thank goodness for newspapers and the internet. But there's always two sides to everything and in this instance, it was a case of raised anticipation and expectation.
So I wasn't particularly impressed. The menu was a lot more limited in variety than I had been primed to expect. In effect, there were some pastas and a handful of your usual western mains (i.e. pork chop, chicken, fish and lamb rack). In all honesty, if it wasn't for the reviews I had read and heard, I'd probably have turned around and left. But there I was, and I did want to find out just how much truth there was in those reviews
On a side-note, a tip from papilles: If you're new to a dining estab, always go for their "signature items". Cos' then if that item doesn't measure up, it saves you the trouble of trying the rest
But I guess most of you know that. And that is what I did…
I must admit the presentation of this dish did elicit quite some "oohs" and "ahhs" from the table, and was deserving of the "fine-dining" label. But the important question was if it tasted as fine.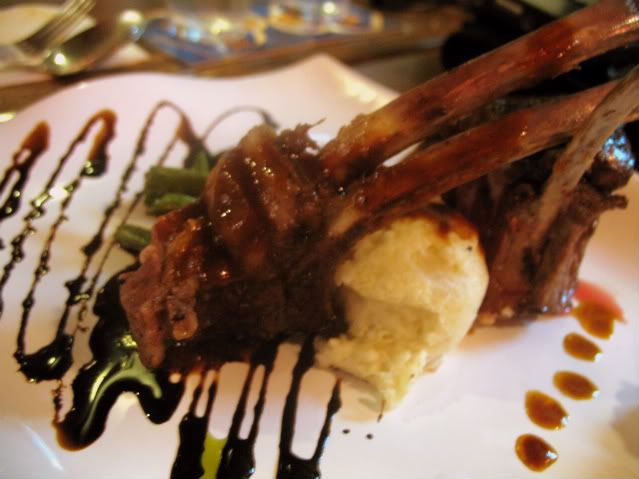 Verdict: The lamb was done perfectly medium-well as requested, an ever slight crisp with a tender, pink, juicy centre. Intensely flavoured with a smoky herb taste, their lamb was hardly gamey. And most importantly, I didn't have to expend too many calories just trying to get at the meat; I've had places where I literally had to saw at the meat and gave up eating it entirely cos' it defeated the purpose of eating since I was losing calories faster than putting them in
The pretty li'l sides of mango chutney, mashed potato and sauteed raddish added colour to the plate but did little to enhance the overall flavours of this dish. I also found the portions of this dish to be on the small side; then again, at $20.80 without GST and service charge, and considering the overall quality, Basil Alcove is a rarity. To sum it up, slightly above average food at slightly below average prices
Basil Alcove
#01-12 Fortune Centre
190 Middle Road
Tel: 6336 1318
---
Even the most adventurous and fussy of palates wish for something a little less complicated and fanciful every now and then. A blend of simple textures and flavours – the mark of comfort food, should never be underestimated. A remedy for the home-sick and plain sick alike, these are the foods that nourish the soul and help restore the balance of one's gastrointestinal system. Ok, if what I've just said sounds too abstract to make sense out of, just know that comfort foods well, provide comfort
Which is why whenever I feel under-the-weather and in need of soupy healthy stuff, I pop by a particular stall for some ban mian (handmade noodles):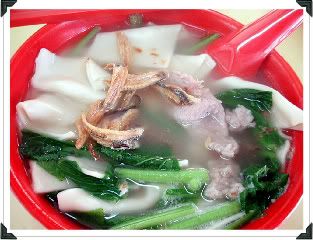 Make no mistake, despite having a generous serving of greens and some pork slices in what appears to be a clear broth, this isn't your typical "healthy-tasting" fare. What sets this stall apart from many others is its broth, richly flavoured with the taste of garlic, pork and anchovies. A standard bowl ($3) comes with a poached egg, but you can choose not to have it (like I usually do) if you don't like the idea of egg whites clouding up your broth.
NB: The coffee shop where this stall is located just completed an overhaul so expect the signboard to look slightly different. A taste-test post-renovations ascertained the quality remains unchanged, with the added bonus of a cleaner dining environment
美味板麵
Block 177, Toa Payoh Central
(Corner coffee shop diagonally across Toa Payoh Central Community Building)
---