I love Italian cuisine as much, or even more so than Japanese cuisine. However, the thought of marrying these 2 contrasting styles elicits some skepticism on my part. If it wasn't for the fact that this fusion was helmed by the well-known Waraku branding and that we approach food with an adventurous nature, I'd probably have brushed it off as some new marketing gimmick to draw in today's increasingly jaded consumers.
I'm quite a fan of Waraku for they serve up some of the best ramen and udon here, coupled with an enticing variety and the use of fresh, quality ingredients. Likewise, their subsidiary Pasta de Waraku keeps to this tradition and proves they made the right move in choosing to diversify from pure Japanese cuisine.
My previous visit to their first Pasta de Waraku outlet at Central mall in Clarke Quay left me with a pretty good impression and hence I decided to give their Square 2 outlet a try. Their menu has a mind-boggling variety of pastas and a smaller selection of pizzas, gratins and rice; add to that a seasonal menu and a special menu, and you've got yourself a situation of "I wanna try that…ooh, but this looks good too!"
I especially love their ingenious Pasta Sets ($16.80 each) which come with a soup and a mini salad, as well as your choice of one of the following: 1) 2 mini pastas, 2) a pasta and a mini gratin or 3) a pasta and a mini pizza. These sets allow one to sample a variety of their fare, and are great for sharing when you're not feeling that hungry
Some pictures of the Gratin Set I had: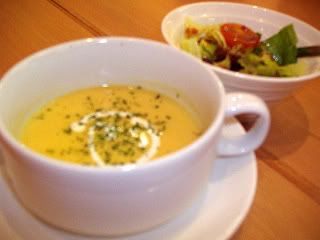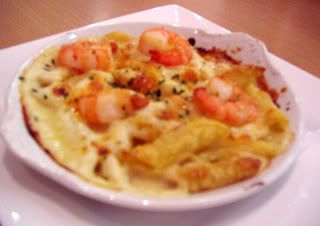 Their Corn Soup was suitably creamy and rich in its taste of corn, though a handful of corn kernels would lend the soup added crunch to boost its overall texture; still way better than the watered down version you get at Mos Burger though. The Salad which comprised of iceberg, romaine, red coral lettuce, and some tomatoes all tossed in a shoyu dressing, was crunchy, light and refreshing on the palate. Living up to its mini title was the Prawn Gratin, which was small even by my standards (I'm considered to have quite a small appetite); understandable considering it's supposed to be a side accompaniment to the pasta dish. Made up of penne (pasta) and 4 shrimps, it was pretty yummy with the penne done al dente and the shrimps tasting fresh and sweet. The cream sauce it was baked in had a strong milky taste which grew on me though it may not go down well with everyone.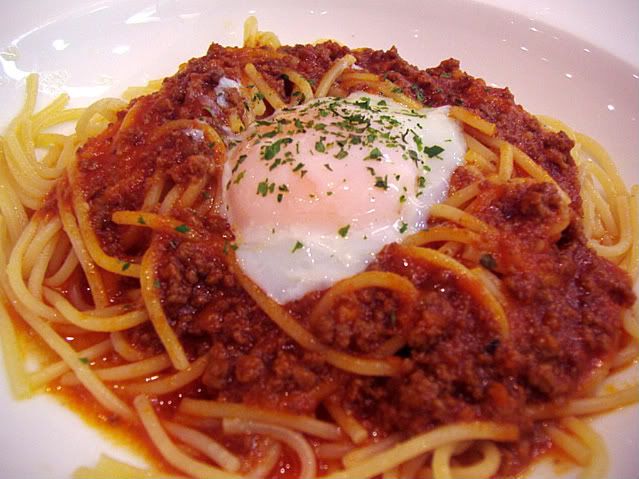 Completing the Pasta Set Menu – Meat Bolognese Spaghetti. As you can probably tell from the picture, the spaghetti was a tad overcooked. What looks like a watered down sauce is thankfully, solely a result of them not draining their pasta fully before dishing it. I say thankful cos' the meat bolognese sauce is the saving grace of this dish. Rich and flavourful, the blend of minced beef in a pulpy tomato sauce with a hint of herbs is exactly how a good bolognese sauce should be. Mix in the perfectly poached egg and you get a pasta sauce that is literally good till the last drop
My companion's order of Bacon Curry Pilaf ($9.80) didn't fare as well:
The sticky texture of Japanese rice and the spices used in Japanese curry are odd bedfellas. They simply do not go well together. This dish may have tasted a lot better if it was presented in the traditional style of simmering the main ingredients (in this case bacon and mushrooms) in Japanese curry and served with plain rice. Goes to show there are times when it's best to stick to tried-and-tested formulas. There's a reason why these formulas survived the ages y'know.
A sweet round-off to dinner came in the form of a Macha Azuki Parfait ($6.80):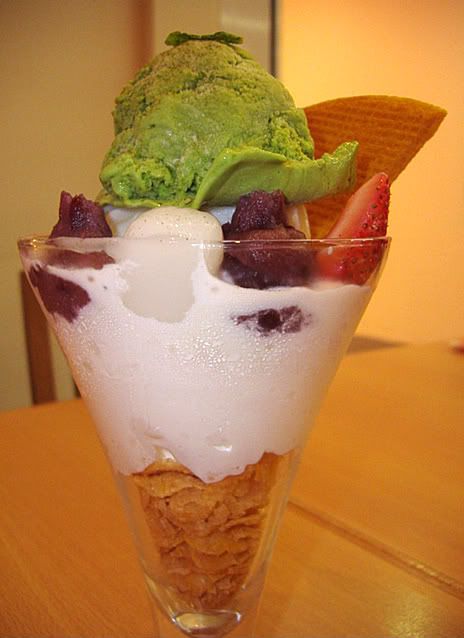 Think icy, creamy green-tea ice-cream atop vanilla softserve, with a base of crunchy cornflakes and adorned with a wafer biscuit, 2 strawberry slices, 2 tiny scoops of mashed red bean and 2 Japanese mochi balls. The ice-cream was a bit too milky for me which I felt overpowered the green-tea flavour; but I'm an ice-cream snob remember?
The mochi balls were chewy and as they are tasteless on their own, went well with the ice-cream and softserve. If you haven't tried ice-cream/softserve with cornflakes, go try it sometime! The crunchiness of cornflakes coupled with the chilled sweetness of ice-cream make for an interesting melange of flavours and textures; highly recommended!
Pasta de Waraku
Central: 6 Eu Tong Sen Street #02-82/83 The Central
Square 2: 10 Sinaran Drive #01-07 Square 2
Marina: 6 Raffles Boulevard #03-257 Marina Square
Full menu here.
---